Sponsors
3rd & 1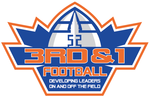 3rd & 1 Football is a joint private initiative of South Ottawa Mustangs Head Coaches Andrew Karn (tyke) and Chris Lessard (mosquito). Our mission is to assist children who are in need in order to participate in organized sports and benefit from being immersed in a team environment.
Formed in 2010, 3rd & 1 Football privately raised funds in order to sponsor seven (7) tyke and mosquito players with new cleats and football gloves for the 2011 season.
*We are currently in the process of establishing as a non-profit organization. All proceeds will be used for the assistance of the children. No form of compensation for either partner in this endeavour.
Jeremie at Pure Magic Vacations

www.jeremieatpuremagicvacations.ca
Are you thinking of going to Walt Disney World? 
With so much to see and do planning a Walt Disney World vacation can be overwhelming. I am here to make planning your vacation as stress-free and help you get the most out of your magical vacation.
My services are provided to you at no extra cost, whether you book through me or by yourself, the price will be the same.
I will help you with every aspect of your Disney vacation, including but not limited to:

answering all your questions
picking a resort for your family
suggesting and making dining reservations
suggesting and making fastpass reservations
providing detailed daily itineraries
At Pure Magic Vacations we know that being prepared makes everything a lot smoother so we have come up with the ultimate tips and tricks booklet that is included in each of our Walt Disney World packages.
Je suis bilingue, pour les francophones.
Jeremie Laviolette
Jeremie@puremagicvacations.ca
613-986-5785
facebook.com/Jeremieatpuremagicvacations
RjR Inovations

RjR Innovations is an industry leader in IT Service Management (ITSM) and Business Service Management (BSM). By aligning IT objectives with business goals, ITSM and BSM accelerate productivity and ultimately provide better services to end users and clients. Both ITSM and BSM facilitate and support business goals, providing a high degree of functionality and flexibility.
To ensure that clients can effectively implement ITSM and BSM, RjR has created a unique and dynamic IT Business Management Solution (BMS). RjR BMS is a user-friendly, adaptive and cost-effective methodology. BMS incorporates strategies formed from a blend of processes, procedures and products that are easily customized to fit each client's goals and objectives.

Clients choose only those strategies that fit their specific needs. RjR evaluates business requirements to determine those needs followed by strategic planning and design, implementation and education, service delivery and ongoing support.